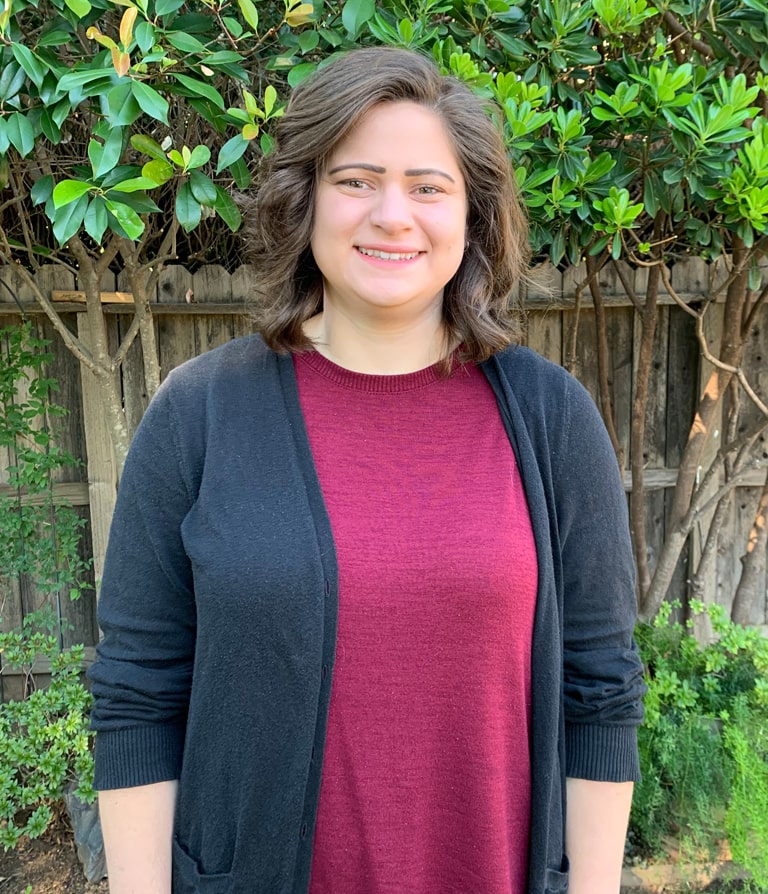 Gabrielle Banathy, ACSW
Position:

Clinical Social Worker

Experience:

Location:

572 Rio Lindo Avenue, #203, Chico, CA 95926

Email:

Phone:
Gabrielle (Gabby) Banathy, ACSW
Associate Clinical Social Worker
CA License #96699

Gabby Banathy graduated from the Master's of Social Work program at Chico State in 2020, where she worked with foster youth in the child welfare system while completing her studies.  The majority of her experience prior to the Master's program was with developmentally delayed patients in child and adolescent development labs at UC Davis, as well as work with the local autism community in Butte County. Gabby grew up involved in the mental health field through having a developmentally delayed younger sibling and quickly became a part of services at school sites, private providers, assessment/diagnostic facilities, and other mental health and disorders organizations in Northern California.
Since late 2020, Gabby has been an Associate Therapist at Nysa Therapy, where she has seen how patients who have been labeled as "incurable" or "too difficult to work" heal and live fulfilling lives. She believes in the Nysa Method because it is applicable to any patient who is struggling. The Nysa Method is practiced from the humble place of understanding the struggles of being a patient searching for a secure relationship that bears witness to their pain and experience. To Gabby, the Nysa Method is highly integrated, including pieces of theory from psychoanalysis, object relations theory, relational therapy, attachment theory, family system theory, and others. This integrative model has helped her to see the importance and applicability of this therapy to the population we serve.
Gabby's work at Nysa has helped her understand the importance of serving the autistic (ASD) population in conjunction with the personality disorder population.  While gaining more practice in healing personality disorders with the Nysa Method and Therapy, she has been working with Dr. Steven Diggs to help apply some of these core concepts to serving ASD patients well and develop new interventions that go beyond classic occupational therapy, Applied Behavior Analysis (ABA), and life skills programs. Their work is expanding to instead integrate Nysa principles of relational therapy and object relations theory into serving ASD patients.
Gabby's primary interest currently is researching and creating a therapeutic treatment for high functioning autism (HFA). She has witnessed both personally and professionally how little is known about HFA in the field of psychology, especially for women and adults presenting as intelligent and successful individuals. It has become important and interesting to her to learn more about high functioning neurodiverse patients, and to see how new integrative therapy approaches can better serve their needs.
Outside of the Nysa therapy room, Gabby remains involved in athletics and outdoor activities as much as she can.  She plays in post-graduate lacrosse leagues and is currently pursuing kickboxing and distance running with some local friends.  Music is also near and dear to her heart, in both playing it with friends and family as well as attending concerts and collecting vinyl records.
For clinicians taking on the Nysa Method in their practice, Gabby shares:
Do not be discouraged in feeling overwhelmed by this complex method.  A core belief of Nysa that has provided me personal comfort as a therapist is the emphasis on approaching therapy with the goal of creating a secure relationship and therapeutic alliance between patient and provider, rather than feeling pressured to act as an authority figure in the patient's life.  The integrated style of Nysa is one that is worth the effort of learning because it allows the therapist to be more authentic in their work with their patients. An added bonus is that it teaches multifaceted and adaptable clinical intervention skills that will serve you well in your practice.