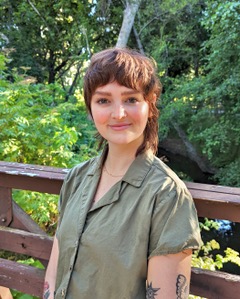 Jill Ruppel, AMFT
Position:

Experience:

Location:

Email:

Phone:
JILL RUPPEL, AMFT
Associate Marriage and Family Therapist
CA License #128577
Jill joined Nysa Therapy in October 2021, after graduating from Chico State. Even before joining the Nysa team, Jill's interest in trauma-based healing led her to pursue an internship at her alma mater, where she used relational therapy to work with many college students and lead groups specializing in eating disorders. Jill also has an extensive background in LGBTQ+ advocacy and has been passionately involved in many social justice movements.
What drew Jill to Nysa? She loves that the Nysa method is so effective at freeing people from their trauma and helping them have meaningful and authentic lives and relationships. "In school, I was taught that personality disorder cannot be healed, and here I am watching people get well right before my eyes."
In addition, Jill truly appreciates how Nysa therapists are able to form deep and authentic connections with their patients. It's these relationships that have allowed her to reach the next level in effectively treating personality disorders and trauma-based issues. At Nysa, real therapeutic connections bring about real healing.
When she's not at the Nysa office, Jill enjoys being out and about, experiencing the world. Not only does she love road cycling, camping, and hiking with her dog, but she's almost always up for seeing live music of any sort. On weekends, she's often packed up in her camper van, exploring some new territory and traveling.
Jill's advice to therapists who are interested in exploring the Nysa Method:
Work from the heart and listen to your gut. You are capable of so much more than your mind is telling you.